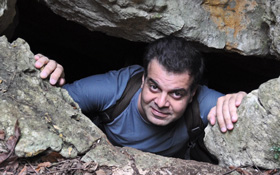 NAMIT ARORA'S WRITING
NAMIT, the founder of Shunya, grew up in the Indian cow-belt city of Gwalior, famous for its fort and the first epigraphic evidence of zero. His training at the IIT in Bengal led him to Louisiana for a masters in computer engineering, and a great escape to the San Francisco Bay Area in the early '90s. Since then he has played a cog in the wheel of Internet technology at three failed startups and three big corporations. This hasn't made him wise, but has enabled him to attend lectures of dubious practical value at Stanford and to live, work, or travel in scores of countries, including yearlong stints in London and Amsterdam.
During a two-year break, Namit traveled across India and created a photojournal. Over a hundred organizations, including 15 museums, 30 academies, and 40 publishers, have licensed his photos. His writing has appeared in venues like the Humanist, Philosophy Now, the Kyoto Journal, Culture Wars, The Philosopher, and three college anthologies in the U.S. He has a column on 3 Quarks Daily, often writes for Himal, and has finished a novel that he hasn't published yet. Namit's review of Joothan won the 3 Quarks Daily 2011 Arts & Literature Prize. His recent work includes River of Faith, a documentary film about the Kumbh Mela (email, blog, favorite books and quotes).